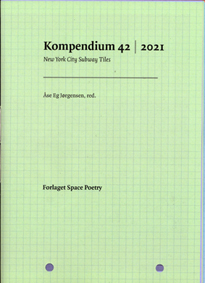 Kompendium 42 – New York City Subway Tiles
Kr. 50
Beskrivelse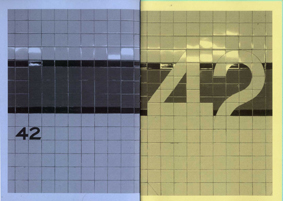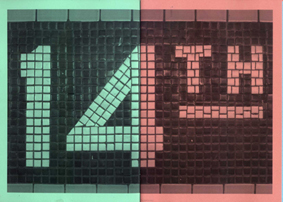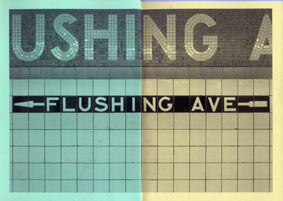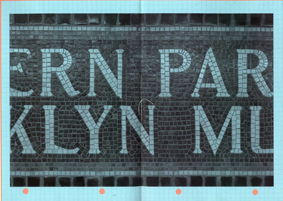 I New York City subway er perronernes stationnavne integreret i væggene og ›sat‹ med keramiske fliser og mosaikker.
De enkelte stationer kan dels have skiltning i den ældste stil* – flerfarvede mosaikker, hvor grundlaget for bogstavtypen er skriften Bookmann (se de tre midteropslag) – det er håndarbejde med fine variationer og de keramiske stifter er tilpasset bogstavernes kurvede former med stor omhu. Når stationen er blevet udvidet og perronerne forlænget, er den integrerede skiltning fulgt med tiden og kan være skåret til af standard­fliser (tallene 59 og 42), skrifttypen ligner Helvetica. Det store, dekorative tal er suppleret med mindre talfliser. Tallet 42 er suppleret af ældre, typografiske fliser, tegnet af Squire J. Vickers, med en skrifttype, som er tilpasset kvadratet, og minder om Copperplate med de karakteristiske små seriffer. Farven er hvid på sortblå, og den blå bundfarve trækker en smule blåt ind i kanten af det hvide tegn. En fin detalje.
Disse fliser går igen i mange stationers navne (Court SQ, Nostrand, Hoyt etc.) sammen med mosaikker med en sans serif skrift (14TH og delvist synlig i Flushing)**. Denne skrift er mere regelret, men tilpasser sig stadig størrelse, mellemrum og kurver på en fin og varieret måde, se fx det løftede TH i 14TH.
In the New York City subway the station names on platform walls are integrated in the walls and 'set' with tiles and mosaics.
A station can have names in the eldest style* – colourful mosaic set in a typeface close to Bookmann. It is artisan's work with delicate variations, and the small ceramic pins follow the curves of the letters with great care. When the station has been expandet and the platforms prolonged, the new names has got the typography of it's time. It might be cut out from standard-tiles (numbers 59 and 42), the typeface here looks like Helvetica. The big, decorative number is accompanied by smaller tiles with the same number. Number 42 is accompanied by older, typographic tiles designed by Squire J. Vickers in a typeface, adapted to the square, that bears resemblance to Copperplate with the characteristic small serifs. The colours are white on blackish blue and the blue background leaks a bit of blue into the white number or letter. A nice detail.
This type of tiles are used in many station names (Court SQ, Nostrand, Hoyt etc.) together with mosaics in a sans serif typeface (14TH and partly visible in Flushing.)** This typeface is more geometrical but still adapts nicely and variated to size, space and curves, e.g. the lifted TH in 14TH.
* The first "signs" in the New York City subway system were created by Heins & LaFarge. In 1904 they established the now-familiar tradition of mosaic station names on platform walls.
** Squire J. Vickers took over from Heins & LaFarge in 1908. In 1925, he created a new style of sans serif capitals. These letters, inspired by Art Deco, were heavier and more geometric than the earlier sans serifs rooted in 19th-century grotesques.
Notes cited from: "The (Mostly) True Story of Helvetica and the New York City Subway" by Paul Shaw
24 sider
format: 15 x 21cm
vægt: 29g
eget tryk og bogbind
ISBN: 978-87-7603-222-7