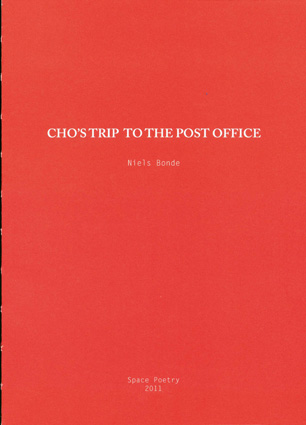 Cho´s Trip to the Post Office
Kr. 100
Beskrivelse
december 2011
Niels Bonde: Cho's Trip to the Post Office
"Cho's Trip to the Post Office" is an investigation of a highschool killing. This artist book documents the full background of an extreme case story in Niels Bondes recent work about the lust for media attention.
In 2007 at Virginia Tech the student Cho Seung-Hui interrupts his murdering rampage because he needs to go back to his dorm and complete his media package which he subsequently sends to NBC. In the videos he complains that he has been wronged in some way and that people have not appreciated him enough. Cho feels that he has not received enough attention, and the attention he has received has not been right, and believes he has the right to kill to get his kind of attention – kill, not specific people, but 32 people at random. Mass media, internet and the now ubiquitous cameras are used for anyones self-promotion and to disseminate information. If you can't achieve "15 minutes of fame", at least you get "15 minutes of shame".
The images in the book are frozen moments in the incessant media flow.The background of this story is documented in text, paintings, drawings, architectural models as well as prints and videos, and in it's thorough research offers the reader an opportunity to scrutinize the atmosphere in which the chance to get one's image in the news matter more than life. Today December 9. another highschool shooting with two fatal deaths at the same school, Virginia Tech, stresses the need for us to understand these actions in order for us to be able to prevent them.
Niels Bonde lives and works in Denmark and Sweden. He is educated at The Royal Danish Art Academy in Copenhagen (1988-94) Städelschule in Frankfurt (1992-95). He has taught at Malmö Art Academy 1999-2005 and is currently teaching at Kunsthøjskolen in Holbæk.
Format: 15 x 21
100 sider
Vægt: 234 g.
Uden omslag
Design: Jacob Ravn
Fotografer: Vidmantas Ilciukas
Anders Sune Berg
Niels Bonde
Oversættelse af interview:
Henrik Roloff
Udgivet med støtte fra Statens Kunstråds Billedkunstudvalg
Jacob Ravn Design AB